The custom-made suspended net, ideal for optimizing space in your home
While you've been spending a lot more time at home over the past few months because of the Covid pandemic, you may have come to realize that your interior could be better suited to your family life. Poorly organized, too small, or simply boring, your home needs a makeover! Why not install a home net? This interior decorating solution is attracting more and more people wanting to bring lightness and transparency to their homes. Discover the custom-made suspended net, ideal for optimizing space!
What is a home net?
The nets currently installed in private homes are actually the same nets found on catamarans. On these boats the net is used as a platform for the crew while at sea. The crew relaxes on it, and even sleep on it in complete safety. On catamarans are called nautical trampolines,although no one jumps on them.
The nautical quality of this material allows you to install the nets in homes and to walk, sit, and even sleep on them. Installing these nets in homes has been trending foor over ten years.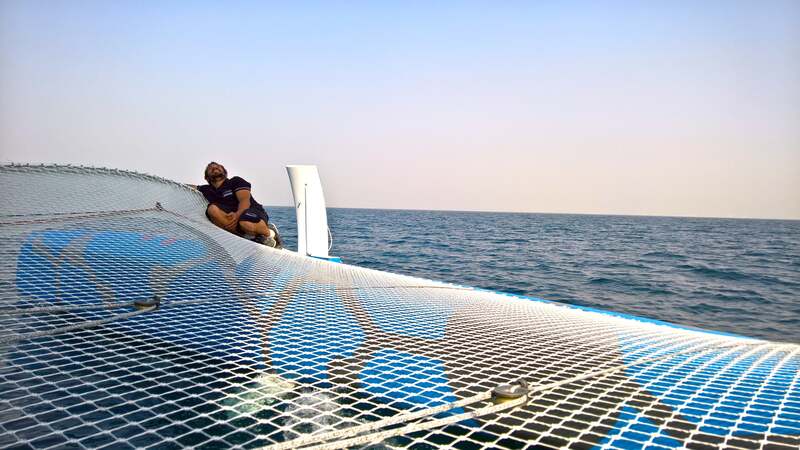 What is a home net made of?
Manufacturing process
Home nets are manufactured along the same lines as nautical trampolines. Th nets are made of woven-thread polyester. This fiber is recognized for its high resistance to abrasion, and the threads are UV-resistant.
For the comfort of the users, the custom home net's mesh is braided but not knotted, so there is no risk of getting snagged on it when lying down on it!
And to guarantee perfect elasticity and suppleness in the mesh, the threads are not stiff. The nets therefore bend with a user's body weight without causing him to bounce. To obtain this result, the polyester threads are heated very quickly. This manufacturing process causes them to melt slightly, subsequently preventing them from stretching. permet au filet de se déformer sous le poids de la personne mais sans rebondir. This is known as the thermo-fixation process.
When shopping for quotes from different home net manufacturers, it is important to ask about its composition. Do not purchase a net made of polyamide! Polyamide mesh is much too elastic and will lose its shape over time.
The different types of mesh
Loftnets provides you with several types of mesh for your home net: 15-mm, 20-mm, 30-mm, and 45-mm mesh sizes.
The smaller the mesh size, the greater the support for the user, leading to greater comfort.
However, to maintain optimal transparency and lightness on the installation, you may wish to opt for the largest size mesh, measuring 45 mm.
A medium-sized mesh is generally the most popular among our customers, except for those who are afraid of heights, and who opt for a tighter mesh.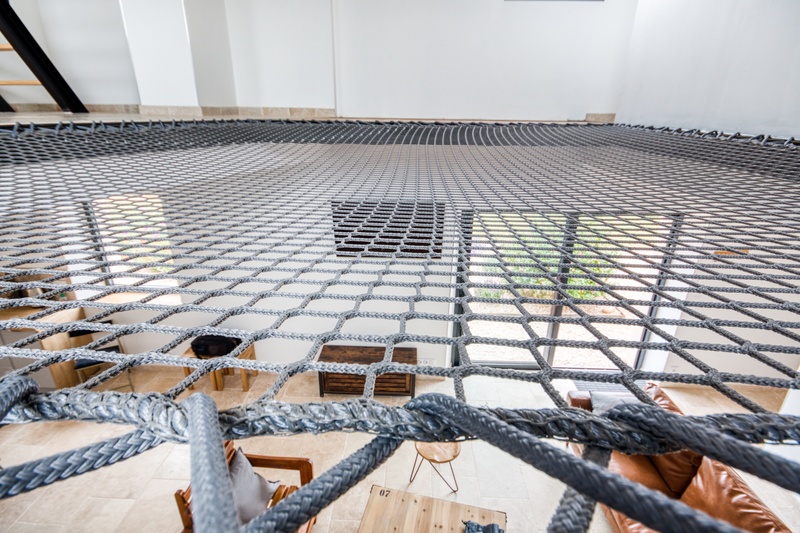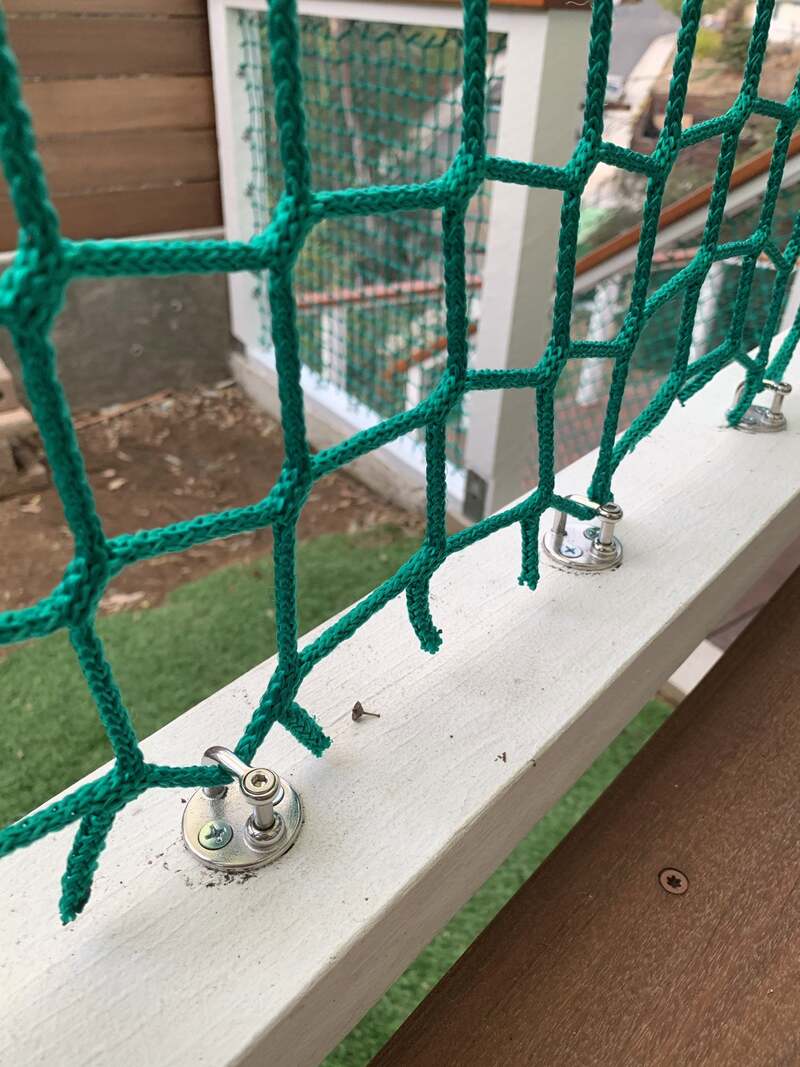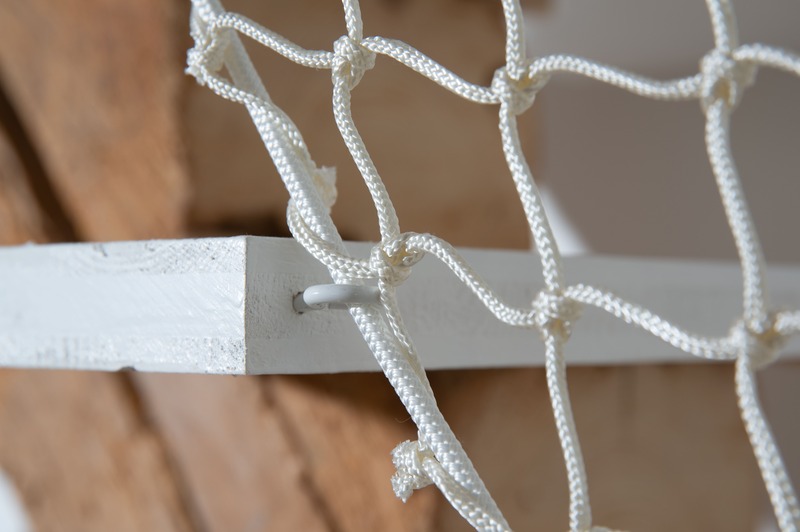 Online ordering tool
Another LoftNets advantage is our online tool to let you design and order your custom net. Simply go to the dedicated page, select the desired shape, and enter the measurements. Then select the desired material and installation hardware. Finally, select the desired ropes you need and that's it! Within minutes you will receive a personalized quote. Once you've placed your order, delivery times are typically between 2-3 weeks.
Where are home nets installed?
Home nets may be installed in any room of the home, but are typically installed in living areas.
Horizontal installations
Catamaran nets are installed horizontally to fill voids. This is often the case of many homes built in the 1970s-80s featuring a mezzanine. They may also be installed between two floors to optimize space that would otherwise not be used. It also creates a space linking the two floors.
Architects are increasingly using this solution in new homes. They include the nets in the blueprints to offer clients a contemporary, airy atmosphere. This solution is also less costly and easier to implement than other materials such as glass.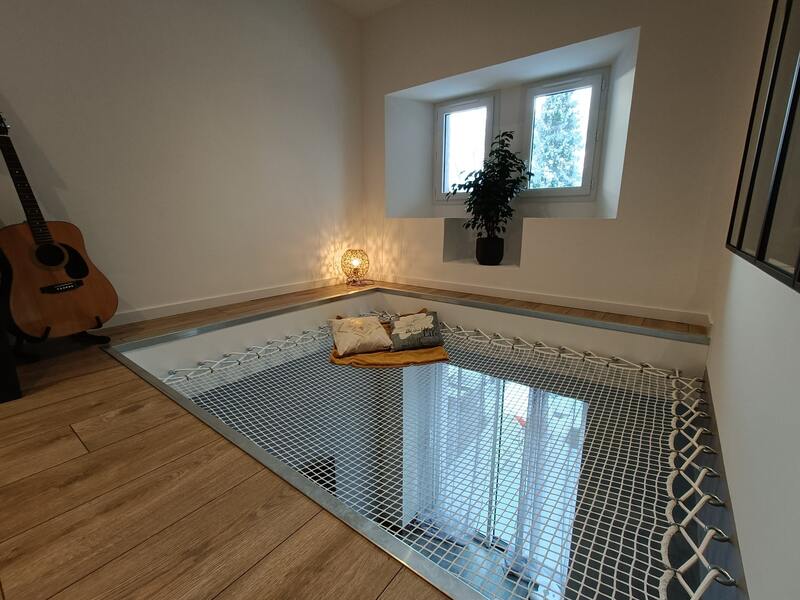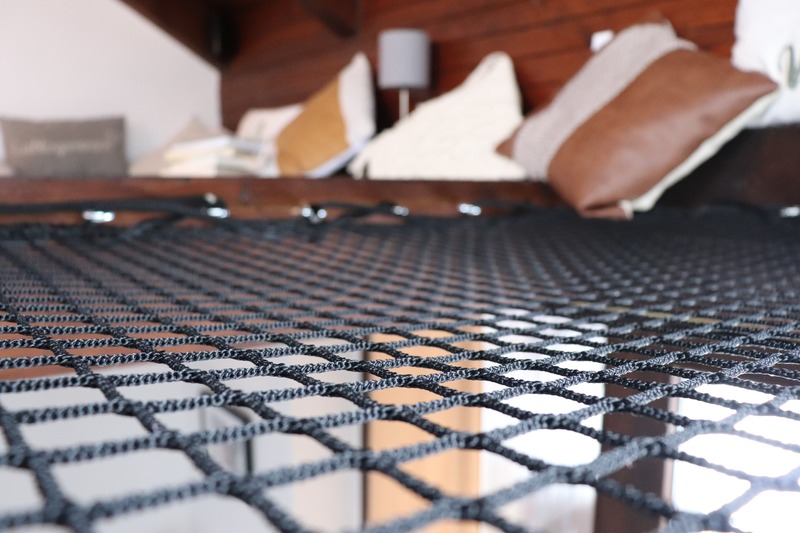 Vertical installations
The catamaran net may also be installed vertically to act as a contemporary guard rail. It's the ideal solution to secure a stairwell, an upper bunk bed, or a mezzanine, for a clever, modern look in colors matching your interior. Knotted mesh is perfect for this type of installation as it won't cause any discomfort to users.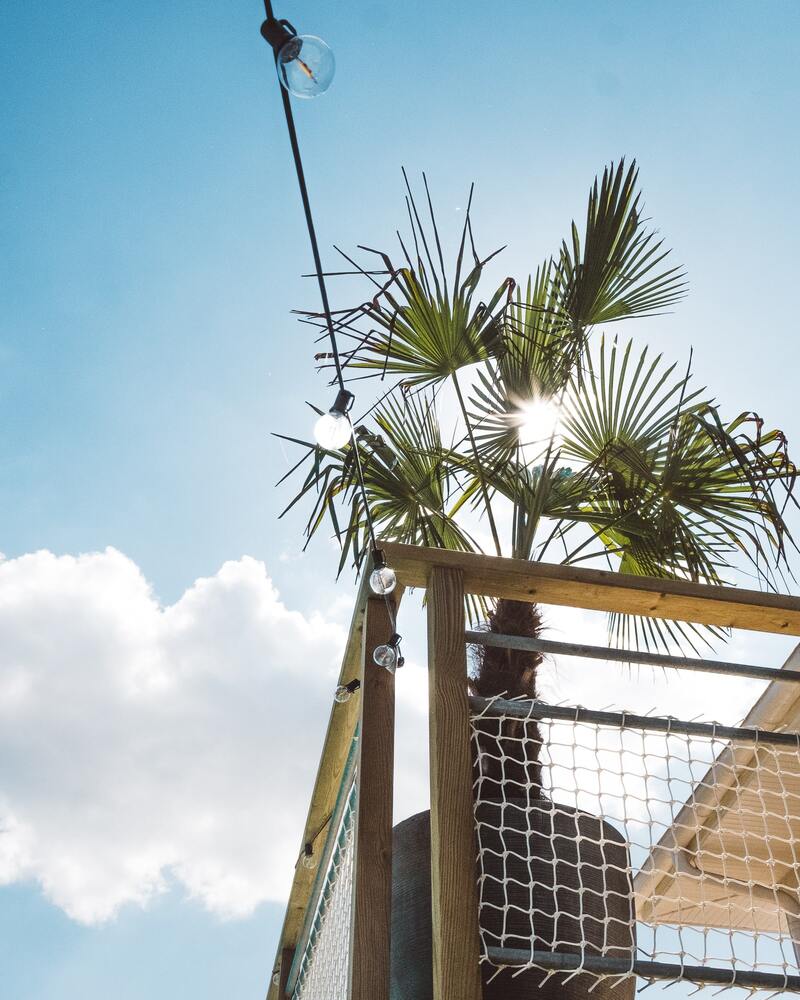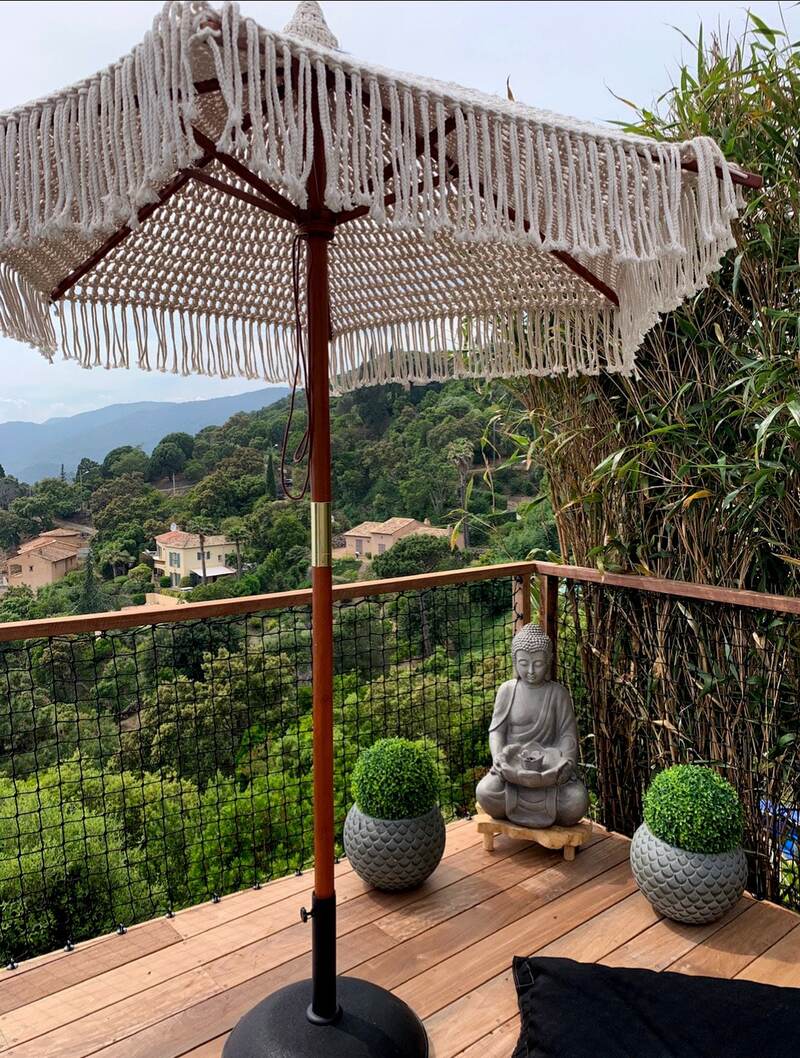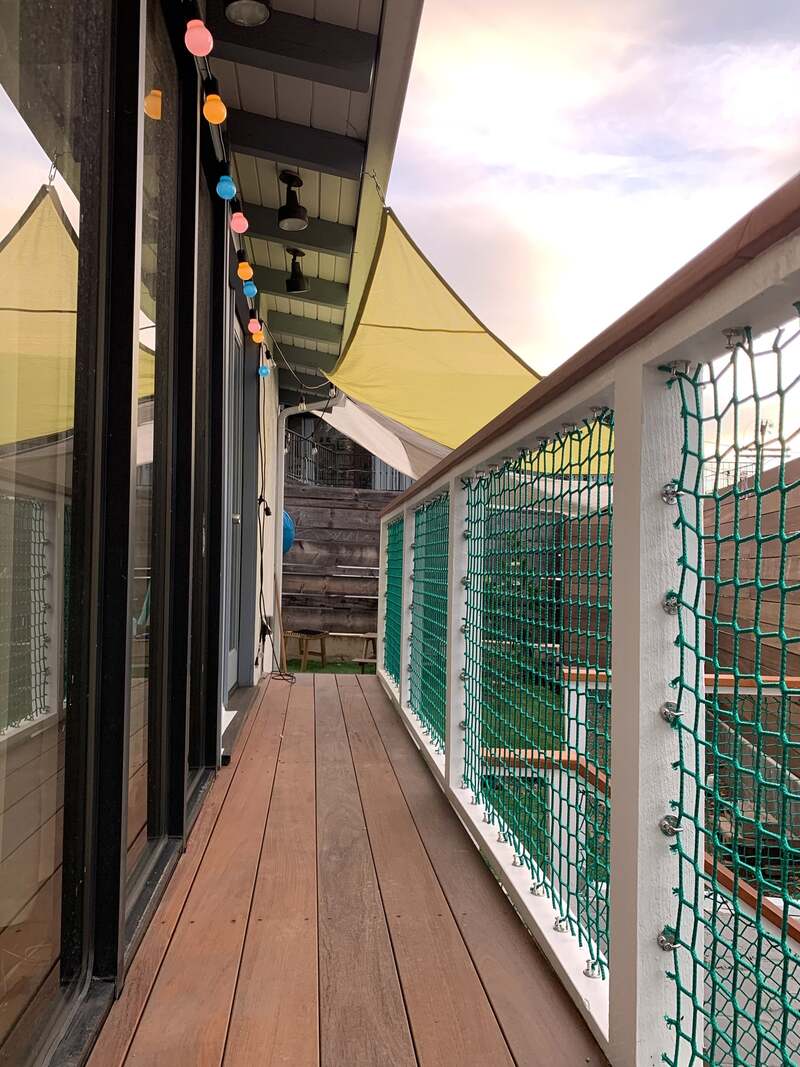 How are home nets installed?
No need to call in the pros! In most cases, our customers install their own nets thanks to our online tutorials.
To ensure a perfectly safe installation, you need to install the net hardware on a wooden or metal frame or onto the structure of your home. The eye bolts or trigger guards should be installed every 15 cm. We recommend that you use A4 stainless steel hardware instead of galvanized steel so that the parts don't blacken over time.
Then fix the 4 corners of your net to the frame. Now lace the edge rope – called the bolt rope – through the eyelets.
This procedure should take you about one and a half hours. It's pretty easy to do, but depends on the solidity of your structure. If you are unsure of your structure, contact a professional craftsman.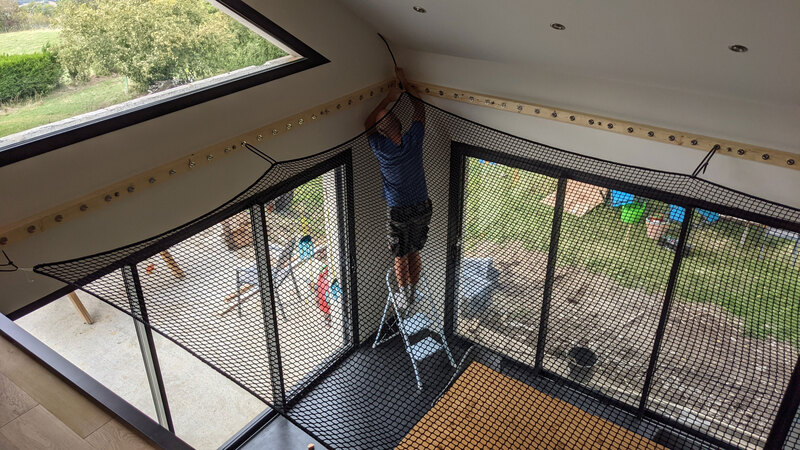 How long does a home net last?
Home nets are guaranteed for 2 years, but really last much longer. On average, a net installed on a catamaran and exposed to UV rays and salt water lasts up to 7 years.
If an accident should occur, such as a tear caused by an animal claw, we will send you the material and tutorial needed to repair the damage. However, if several tears appear, you'll need to send us the net for repairs.
Interested in the custom suspended home net to optimize the interior of your home? Contact us today for more information or to request a quote!