Installing a loft net: the different frameworks
Would you like to install an indoor net in your home? These trendy new-age giant hammocks secure different areas of the home while adding a touch of contemporary style and fun. But how do you install an indoor suspended net and on what type of frame? This article describes all the possible ways to install your home net and enjoy it in complete safety.
Recommendations for installing an indoor home net
The home net installed well above the floor is designed to bear the weight of one or more people. Therefore its supporting structure must be extremely solid. It is strongly recommended that the suspended net be anchored to the home's frame or masonry. You may anchor your home net to a concrete or cinderblock wall, or a pre-existing wooden or brick structure, but under no circumstances must you install your catamaran net on plaster board or drywall. These materials aren't sturdy enough and will endanger the safety of the users.
Measure the net area
The home nets are custom-made according to the measurements of your frame. To provide us with the exact measurements of the void you wish to fill, always measure from one end to the other. If the sides of the frame are of different lengths, then please provide us with the inner diagonal measurements as well. This way your net will fit perfectly in its frame.
Installing a guard rail net on a wooden structure
You may install your relaxation net on the frame of your house or a wooden structure. The beams supporting your installation must measure at least 80 mm in thickness. LoftNets provides you with three different fixation systems:
The zinc-plated 80-mm eye bolt;
The zinc-plated 120-mm eye bolt;
The stainless steel 316 A4 trigger guard, ideal for indoor and outdoor use.
Whether you opt for the eye bolts or the trigger guards, you must place them every 150 mm around the frame, to avoid having a void between the net and the wall.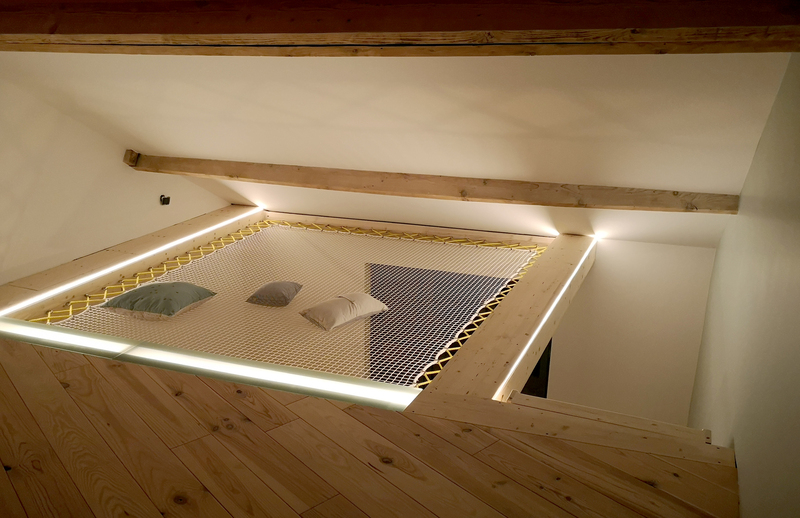 Installing a custom net on a steel beam
You may also install your tensioned net on a steel beam. There are several ways to do so:
Either you use the eye bolts as for the wooden beam, spacing the hardware every 150 mm;
Or you drill holes directly in the steel beam every 150 mm and lace the tensioning rope directly in the holes, provided that the sides of the holes are smooth and won't cut into the rope;
Or you weld a metal bar to the steel beam and use it to wind the tensioning rope around it. This will avoid having to drill into the beam.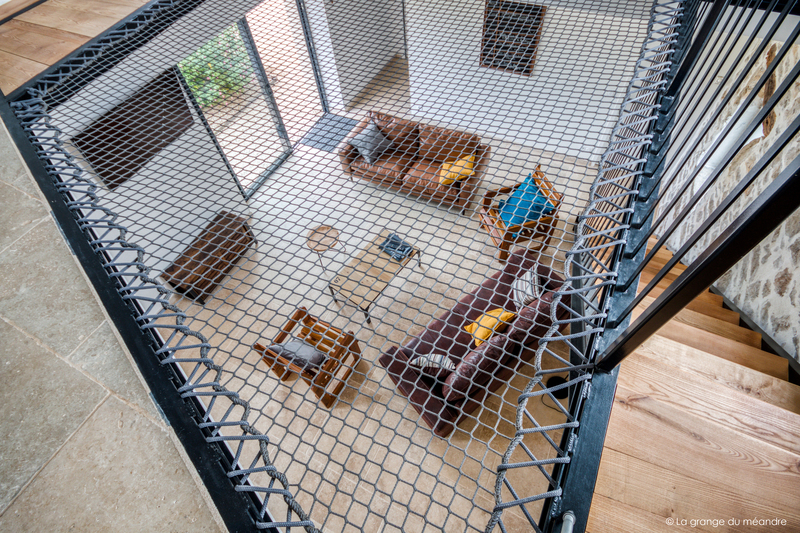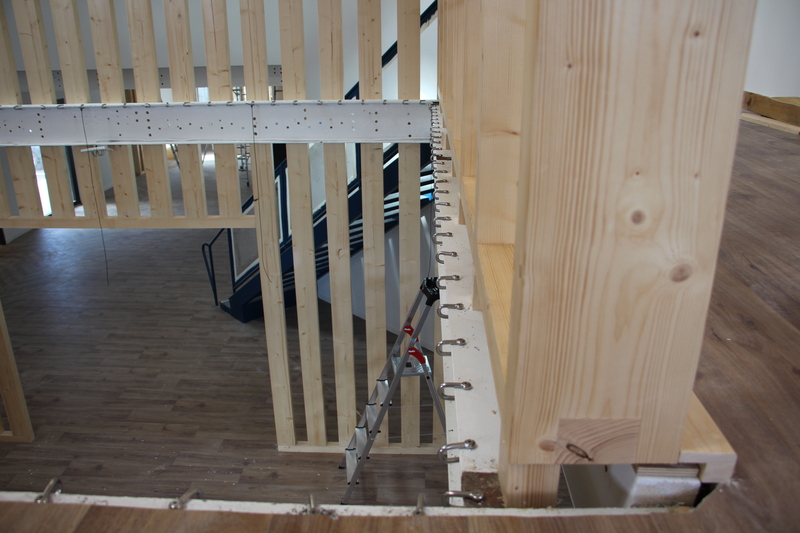 Installing a mezzanine net on a concrete wall
You may also safely install a home net on a concrete wall. To do so, Loftnets suggests using the same eye bolts as for wood or steel, either 80 or 120 mm, used with corresponding dowels.
After drilling holes in the concrete every 150 mm, insert the dowels and then screw in the eye bolts.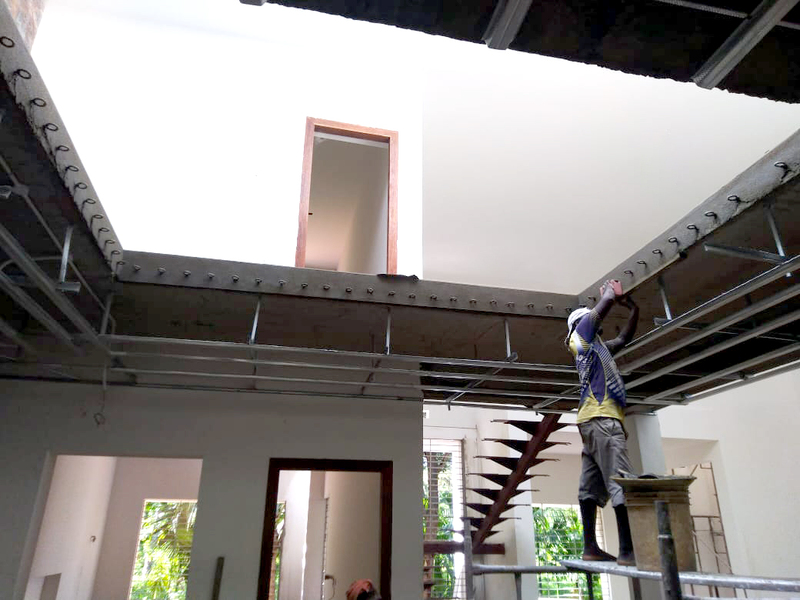 Installing an indoor net on a hollow brick wall
Contrary to what one might expect, it is altogether possible to install a home net on a hollow brick wall. Simply use a chemical seal to install the eye bolts. This seal is not sold by LoftNets, but is available in all DIY stores.
Installing a home net – special situations
Installing a net in a stairwell
Would you like to install your catamaran net in a stairwell next to a mezzanine? Before doing so you'll need to install a beam or metal bar on the side of the stairwell in order to create a complete frame with the three other walls. Once the frame is completed, install your net using eye bolts or stainless steel trigger guards, as with the other types of frames.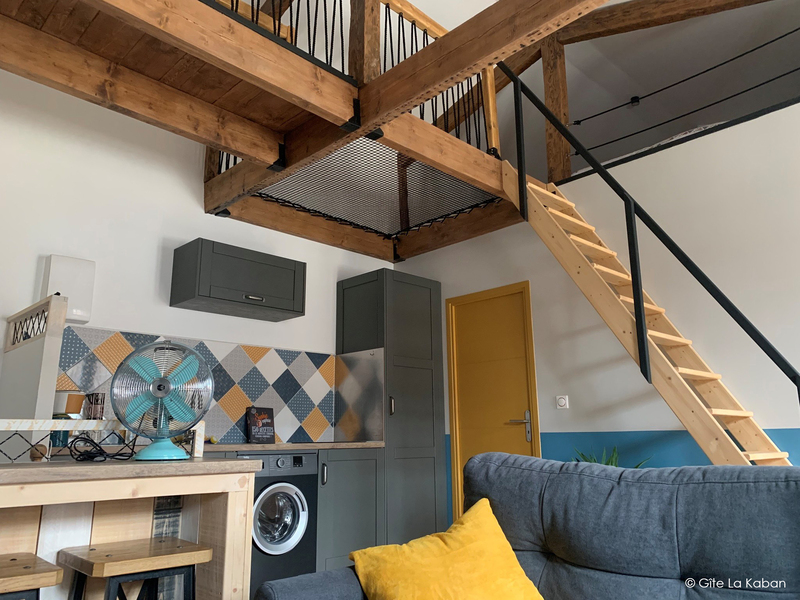 Installing a net between two windows
If you wish to install a net between two windows in your home, you need to check to see if you have a load-bearing wall between the two.
If not, then you need to install a wooden or metal bar in the middle. Then you can fix the eye bolts or trigger guards on to the beam that will be used to hang up the net.
As with wooden or concrete structures, space the hardware every 150 mm.
You may also use this metal bar to wind the tensioning rope around it. This way you don't need to drill any holes in the bar.
For an installation close to windows, we recommend the 30 x 30 mm braided netting for greater luminosity.
Installing a mezzanine net around a chimney pipe
Would you like to install a net in the middle of your living room, but there is a fireplace or wood-burning stove chimney pipe in the way? No worries, LoftNets nets adapt to any and all situations! Simply indicate on your drawing the cut-out measurements and we'll take them into account when manufacturing your net.
To guarantee a safe installation of your net, you must begin by installing a frame around the pipe in the material of your choice. This frame will be used to anchor and tension the net.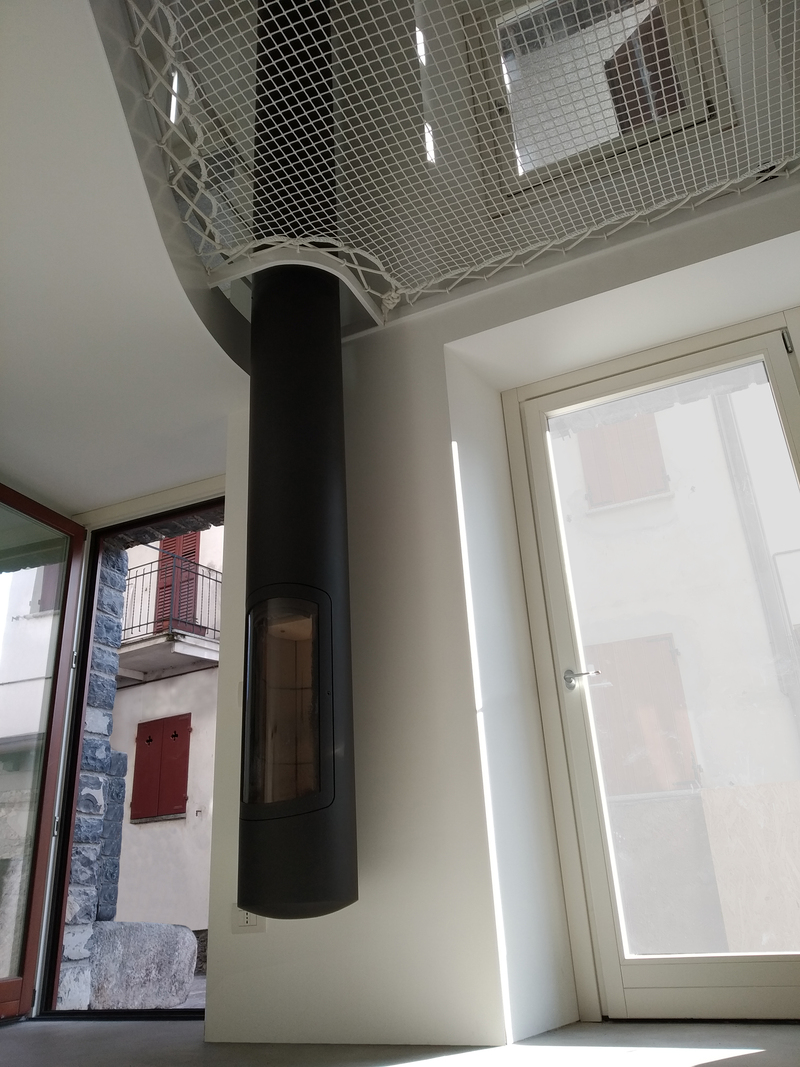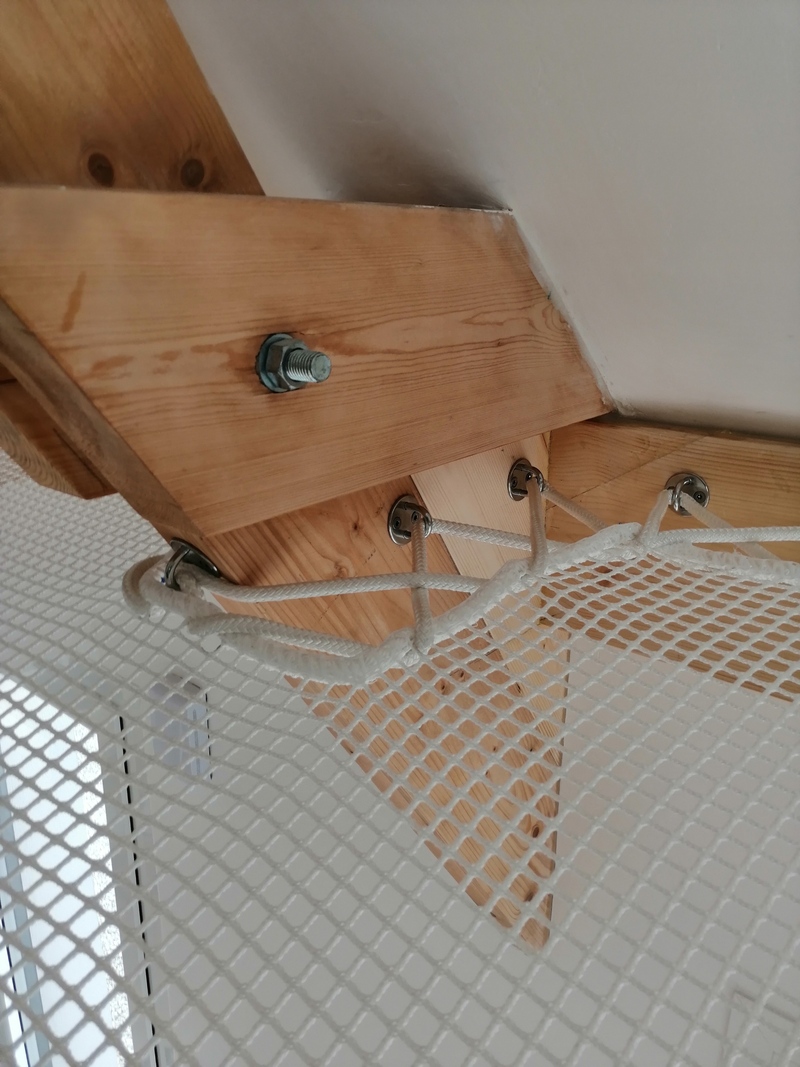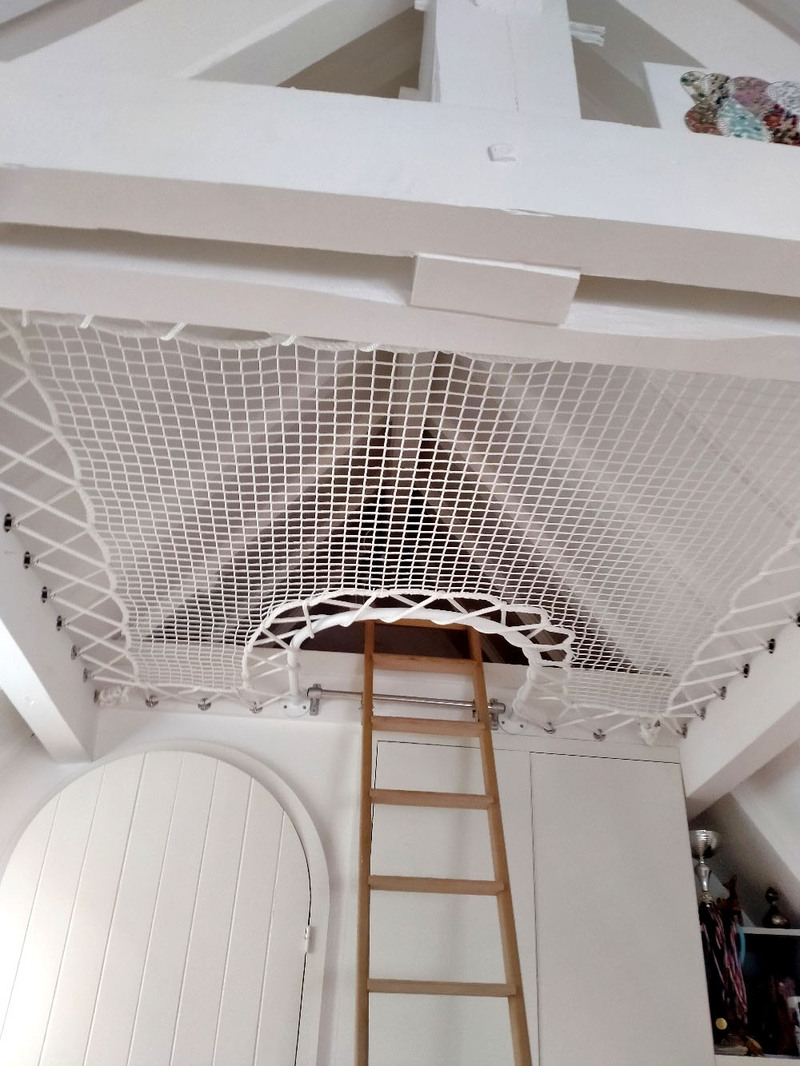 Installing a net on plaster board
If you absolutely wish to install your net on a wall made of plaster board, please know that this is possible but under certain conditions.
The first specific case concerns plaster board walls that have a beam or load-bearing wall behind them. If these elements are directly behind the plaster board, you may install your indoor net using eye bolts or trigger guards. They will be long enough to ensure a safe installation.
However, if there is a layer of insulation behind the plaster board and you need to go through it to reach the beam or load-bearing wall, it is preferable to find another solution. In this case, you need to install a new beam on the plaster board using lag bolts, screws, threaded rods, and chemical seal. You may then install your net hardware on this new beam.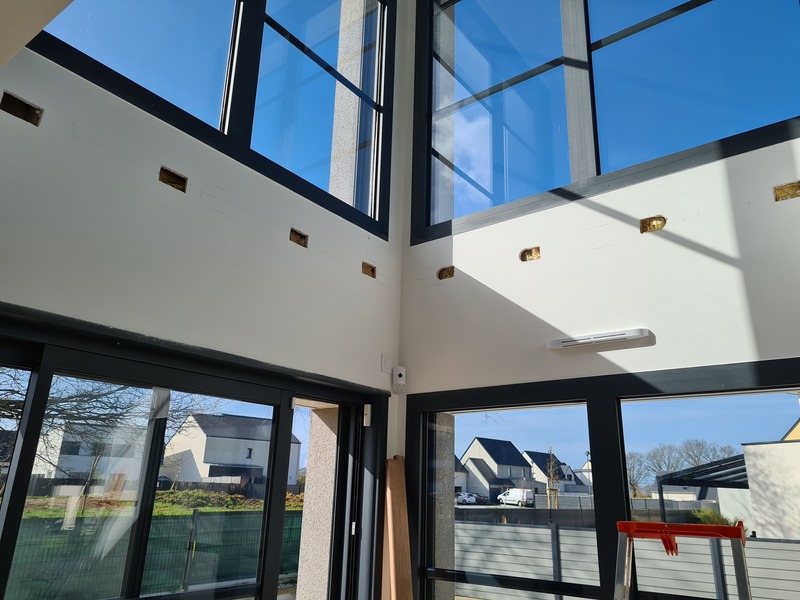 Now you know all about the frames on which you may install your indoor net.
Please contact our team should you require any additional information.