Home net buyer's guide
The custom catamaran home net
The custom home net is an exceptional interior decorating piece. It's a clever design solution, inspired by the nautical sector, that revolutionizes space management both indoors and outdoors.
Very popular in the luxury hotel industry, LoftNets home nets are not just for bungalows on stilts. Create a play area in a child's room, fill a void without blocking out daylight or reducing the height of the ceiling, enjoya suspended hammock above a body of water or in a cabin… Anything is possible, both indoors and out.
Positioned horizontally, the tensioned net is used to securea mezzanine and create a relaxation area. Positioned vertically, the net is used as a guard rail with a modern look.
All our suspended nets withstand up to 120 kg/m², while offering users a feeling of weightlessness when on it. Still undecided? This buyer's guide is designed for you! Everything you need to know about home nets is explained right here!
Why choose a LoftNets home net?
LoftNets by France Trampoline has been THE catamaran net specialist since 2007. We use our extensive nautical experience to design complete custom solutions (net, hardware, and tensioning rope) for all your home net projects.
Home net advantages:
Excellent luminosity,
Cost-effective, durable, easily removed,
Creates new living areas,
Easy to DYI install.
By choosing LoftNets, you are choosing:
The home net market leader, with several tens of thousands of nets sold to happy customers since 2007,
The only company to have had tested and validated the installation system,
Artisanal French manufacturing in our Bordeaux manufacturing site,
An exclusive fine-quality mesh with technical nautical properties,
Worldwide delivery,
Technical experts to advise you in French, English, German, and Spanish,
Easy online ordering.
Home net uses
Our suspended catamaran nets may be installed both indoors and outdoors thanks to their robustness. Because of their ideal tensioning, the only limit to our nets is your imagination!
Our customer service department is available to study the feasibility of all your projects.
Indoor home net and mezzanine net
A horizontally-positioned net on a mezzanine creates a new living area in your home. This new area will rapidly become the ideal place to relax, lying comfortably in a seemingly weightless space!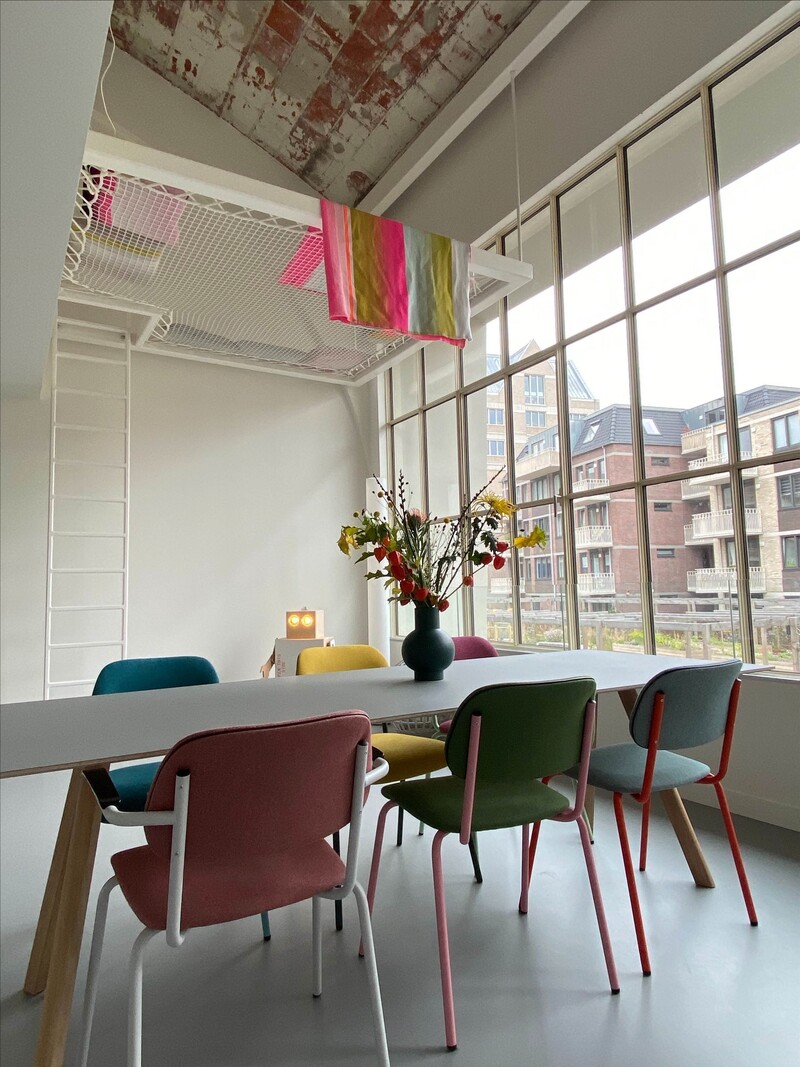 Find inspiration in our customers' creations.
Guard rail nets
Staircase railing, terrace guard rail, stairwell net… LoftNets vertical nets stylishly meet your demands and more! Our perfectly designed nets blend seamlessly into your indoor and outdoor home areas. Decorative and contemporary, our nets add a designer touch to every nook and cranny of your home.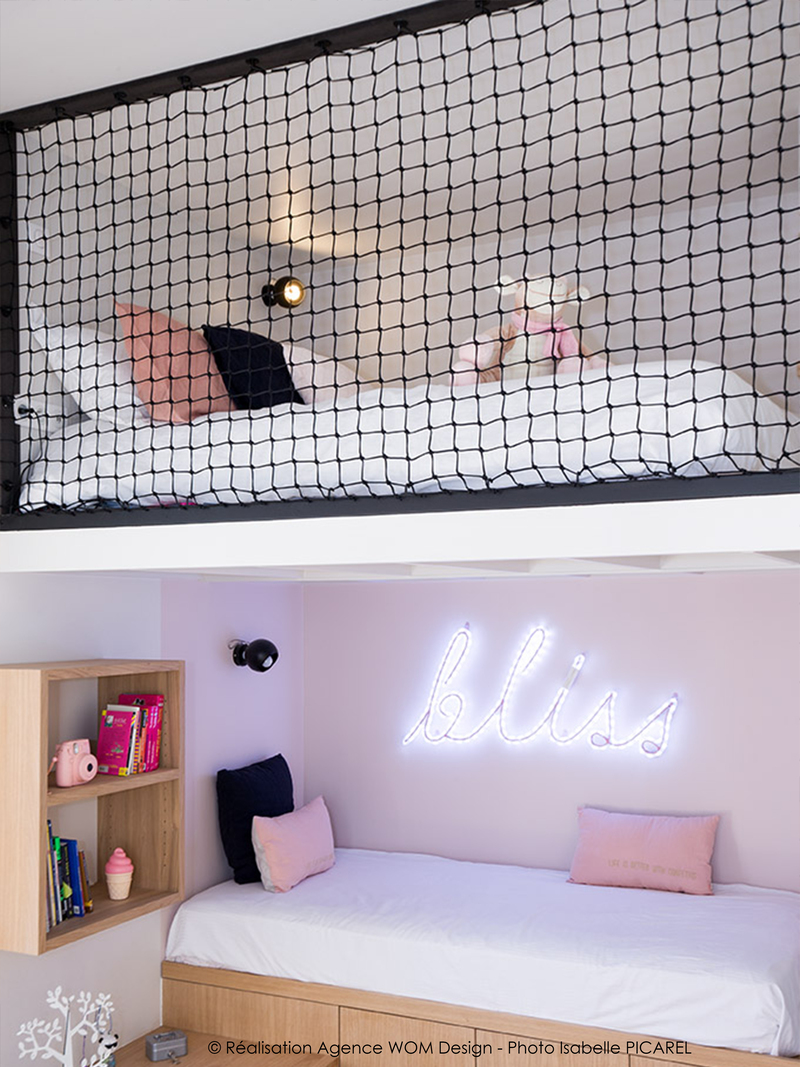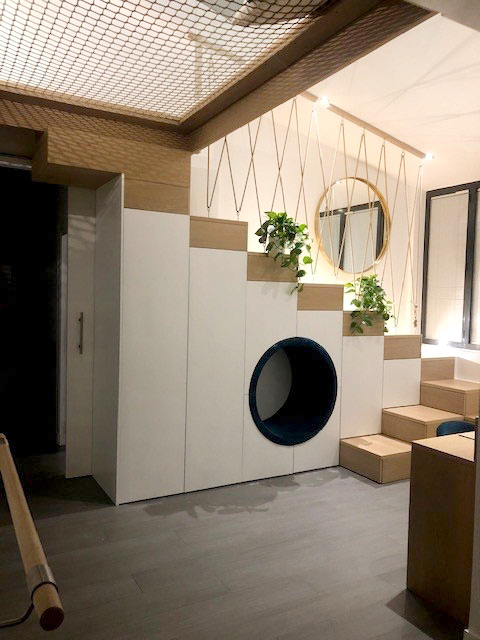 Find your inspiration in our customers' creations.
Outdoor home net
Installing an outdoor home net creates an original relaxation area. Typically favored by the luxury hotel industry, they are now available to professionals and non-professionals looking to create an outdoor living area. Whether it be on a terrace, under a tree, or around a swimming pool, LoftNets nets provide you with relaxation areas wherever you decide to create one.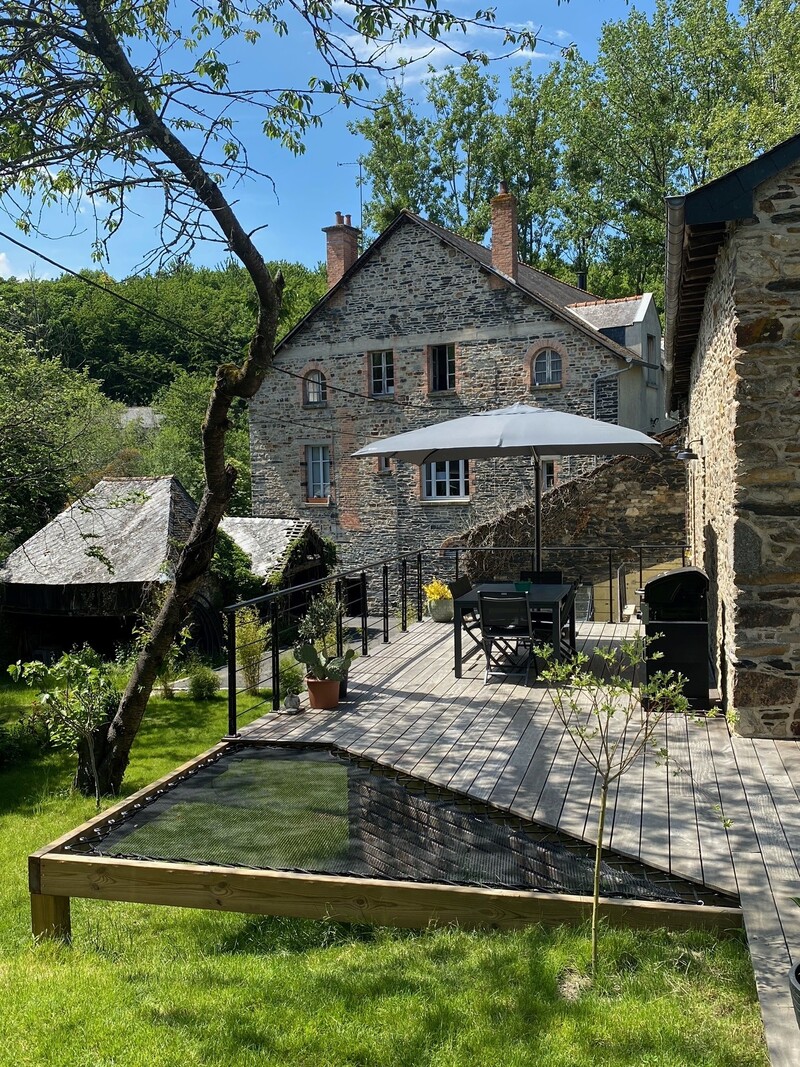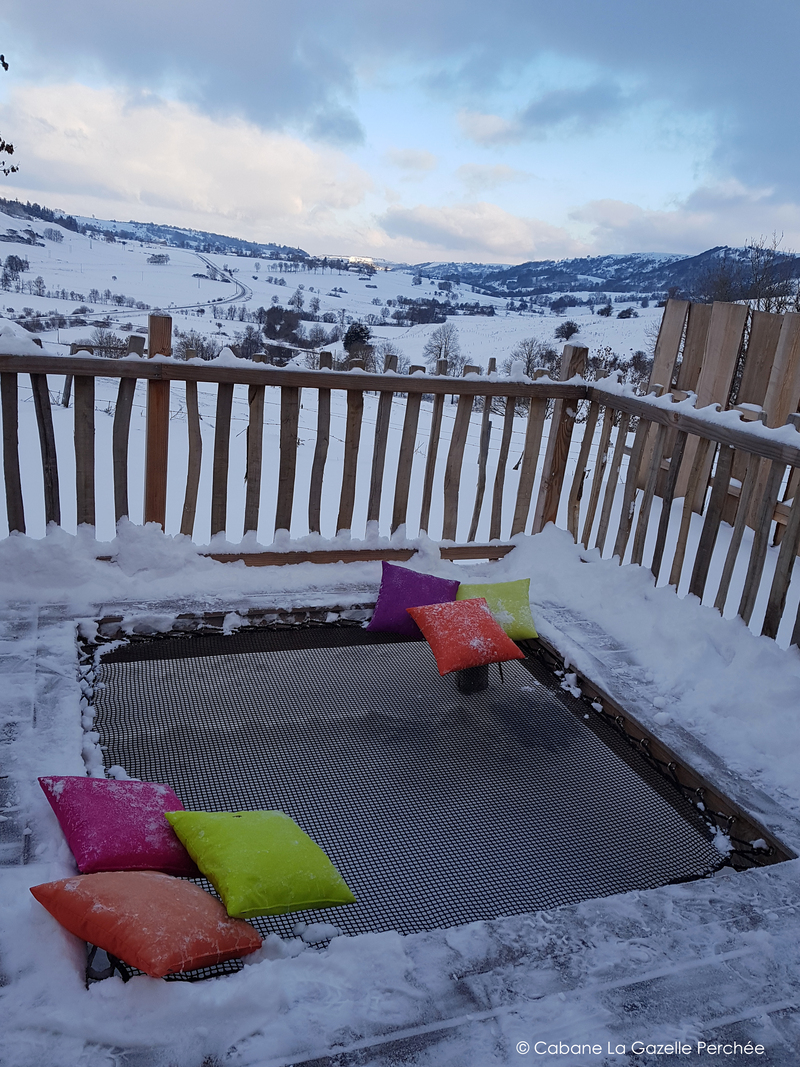 Find your inspiration in our customers' creations.
Home net supports
Home nets need strong supports… Concrete, wooden beams, or metal structures. Wooden beams need to be able to support 80-mm or 120-mm eyebolts, or 50-mm screws for trigger guards. For non-structural supports such as plaster board, it is always possible to add a wooden beam to reinforce the structure.
How much weight can a home net withstand?
Our home nets are very robust. They can withstand up to 120 kg/m², with a maximum of 1000 kg for nets of over 8m². In other words, it's safe for several adults. This weight load has been tested and et approveds by an independent control bureau.
Phrases à ajouter avec tous les chiffres et expliquer vs concurrents.
Choosing the material
Choosing the material is very important. LoftNets provides a wide selection of quality mesh nets to optimally suit your projects.
LoftNets is proud to exclusively offer customers its Polyester Marine3S®, named after its technical specifications: Marine because of its strong resistance to wind and salt, and 3S for Strong, Soft and Sun proof.
All our nets meet the same criteria:
Highly tear-resistant,
Optimal tensioning,
Cost-effective,
Aesthetically modern.
To find out more, read our guide
Braided or knotted mesh?
There are two main net categories, braided nets and knotted nets.
If you wish to install a net above a void, we recommend that you choose a braided net. This type of net is very comfortable to walk, sit, and lie on.
A knotted net is less comfortable to lie on because of all the small knots found at each crossing. This type of net is used for guard rails or partitions.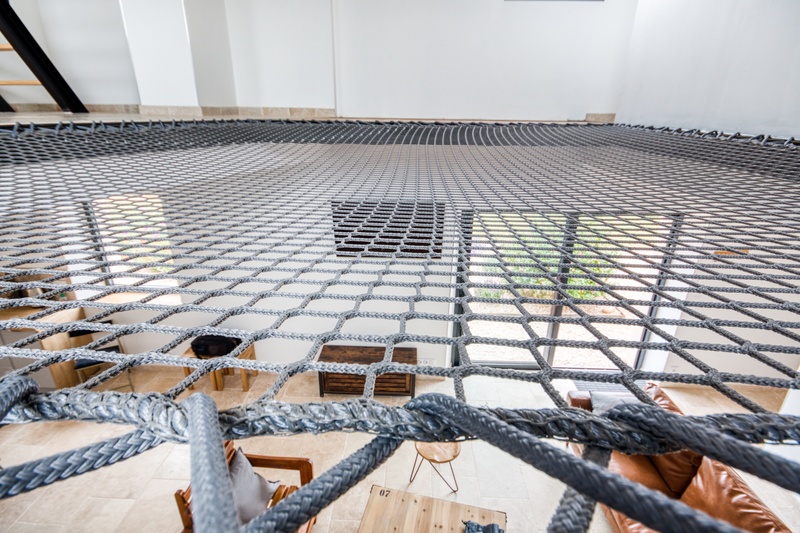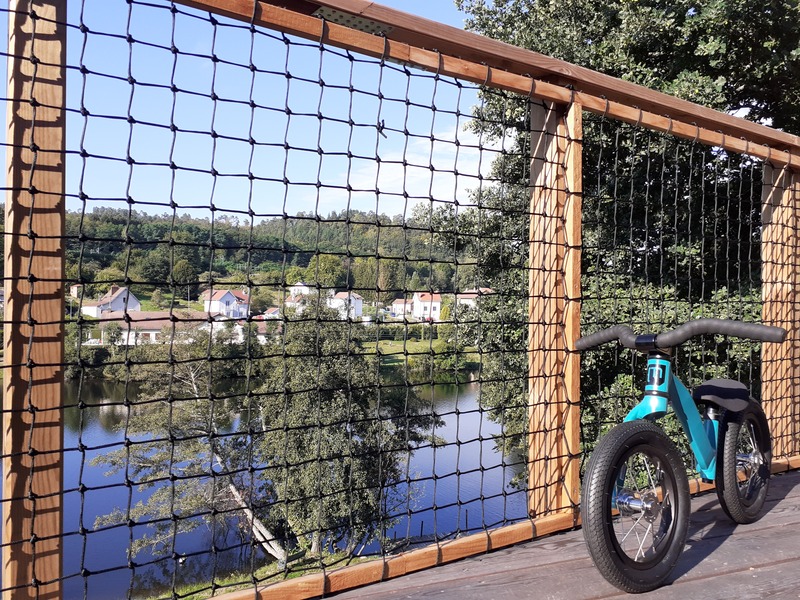 The different types of nets
Here is a summary of our nets:
Braided 15 x 15 mm net : Polyester (black or white)
Braided 20 x 20 mm net : Polyester (grey)
Braided 30x30 mm net : Polyester (Black, white, tan)
Braided 45x45 mm net : Polypropylene (black, white, grey, beige, orange, red, green, blue)
Knotted 50x50 mm net : Polyamide (white)
Knotted 60x60 mm net : Polyamide (black)
All our nets are UV-resistant, so you can install them both indoors and outdoors. Guard rail nets may be ordered with or without bolt ropes. A bolt rope reinforces the net on its sides to extend its shef life.
Installing the hardware
LoftNets provides you with several hardware systems to let you install your home net. Installing your home net is a simple procedure that you can easly do on your own. Your installation guide will be sent to you once your order has been confirmed.
Net installation:
Your project
Our team, specialized in home nets, may be reached by phone or email for any questions you may have, and to provide you with a personalized quote.
Create a quote in just a few clicks with our online quote generator.
Step 2 – The measurements
All our home nets are custom-made, which is why it is very important to provide us with very precise measurements.
Step 3 – The manufacturing
Once your order has been confirmed, we will begin manufacturing your net. Manufacturing time is approximately 2 weeks (excluding summer months and winter seasonal holidays).
Once your order is confirmed, you will receive the installation guide via email.
We control the quality of the product before shipping paying careful attention to design, measurements, and all the details. Your order is carefully packed and packaged to avoid any damage during its transport.