Buy 1 net, get 1 upcycled bag free*
LOFTNETS offers one of its upcycled bags for any net order over 1000 € TTC (excluding shipping costs)*. To take everywhere with you for trendy and responsible walks!
LOFTNETS upcycled bags, a new life for our nets
Concerned about the environment, our teams wanted to think about the best way to reduce the excess material used in the production of house nets. As our business grew, the amount of waste from our production became an important issue.

And at LOFTNETS, we don't recycle, we upcycle! Upcycling is a new process that allows used objects or products to be given a new, more qualitative life. It has become a trend and a new practice in the circular economy: how to use scraps or discarded materials by creating added value to the final product. More precisely, the very idea of upcycling is to recover materials or products that are no longer used to create other objects of superior quality, usually diverted from their original use.

The LOFTNETS bag is a useful, stylish, but above all responsible accessory. It is made from durable and resistant materials and is therefore part of a sustainable development approach. In this way, we offer you quality bags that respect our sustainable commitments based on French handcrafted production.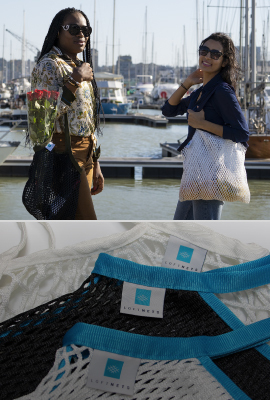 Made in Bordeaux mesh bags
We make them in our own workshop in Bordeaux where we have total control over our materials and production. Our teams take to heart the environmental impact of the creation of your home nets, which is why we had the idea of launching our own made in Bordeaux mesh bags.
Product features :
LoftNets bags are very comfortable and pleasant to carry thanks to the large 2.5cm handles! Made from Marine 3S mesh, the ultra-resistant polyester developed by LOFTNETS, your bag will last over time and will be virtually indestructible. Finally, you can take it to the beach without fear, as the meshes are not afraid of sand or sea water!
The bags are all unique, but generally measure 60x50cm with handles (sizes may vary by a few centimetres depending on offcuts).
Colour of the bags: white or black
Handle colours: white, black, red, pink, navy blue, burgundy, light blue, orange, khaki, grey, beige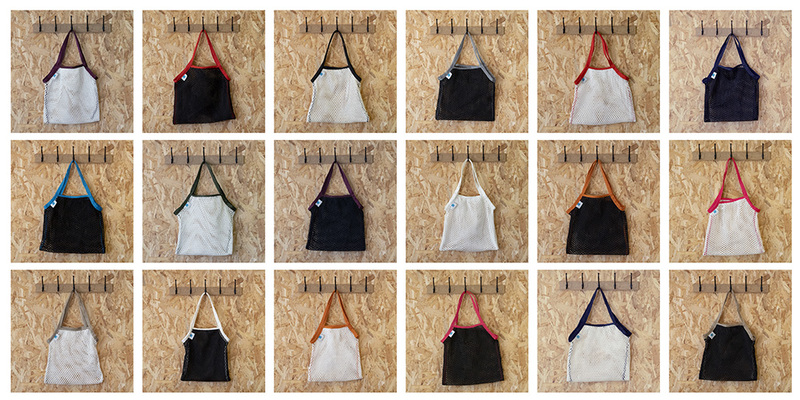 * Special offer only valid while stocks last. 1 bag per account. Choosing the colour of the bag is not possible when ordering.